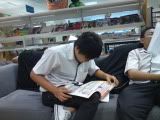 Today , Mr chin didnt came to sch again ! So , free
period for POA ! Wow , sat at the library and had fun !
Disturbing the librarian as she was such a pain in the neck !
Went in the computer room without permission
in the library . Listen to songs and Zhihao decided to
ask ppl to inform the librarian and ask her to come in to
catch us . But , in the end , we all hid under the tables .
She didnt realised us when she walked pass us .
But in the end , she caught Guiqing .
Guiqing said " Come out la , dun play le "
1 by 1 , different spots , all of us came out .
Total of 5 or 6 ppl ? We can see the stunning
look of her face ! Chasing us out ! We head back to class .
Well , after school , stayed back for awhile to do my
geography work . When im done , headed out for lunch
with IDIOT ! Arghhh , she doesnt wanna go
home after eating ! But , she is undecisive !
No place to go still dun wanna go home !
Dota after i reached home for awhile and
went down to bought some things . Well ,
Im so bored yea ?! Cramps !
( 186 days to 'n' lvls ! )
Grasping concept now is the prime
factor of passing my Ns ! ( :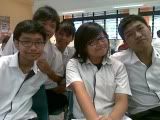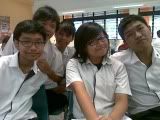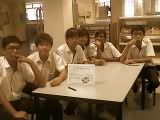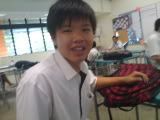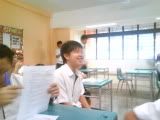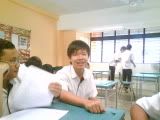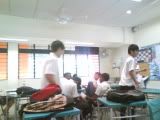 My best singer partner !
Part of Tan family ! HAHA !
Another one from the Tan 's
An unsightful scene created by TanZhiHao !
Well , today 's school was just having fun ! Had total of 6 free
period for (Geography + Physics ) Students !
(History + Physics ) Students have 7 free period !
Hmmm , took pictures during those free period yea ?
Went for training after school .
Well , can i call it training ? Or played bball instead ?
LOL !
Went for dinner after that and straight home ! Hahaha !
Well , did ESSAY in the canteen during my lunch break !
Arghhh ! For nothing must do essay ! Hahaha !
Nvm , take it as a revision for my English !
( 187 days to 'N' lvls ! )


Ohh wooaah (3x)
You know you love me,I know you care
You shout whenever, And I'll be there
You want my love, You want my heart
And we will never ever ever be apart

Are we an item? Girl quit playing
Were just friends, Or are we saying
So theres another one, Looks right in my eyes

My first love broke my heart for the first time,
And I was like
Baby, baby, baby nooo
My baby, baby, baby noo
My baby, baby, baby nooo
I thought youd always be mine mine

Baby, baby, baby nooo
My baby, baby, baby noo
My baby, baby, baby nooo
I thought youd always be mine, oh oh

For you, I would have done whatever
Another chance and we, We get together
And wanna play it cool, About loosin' you
I'll buy you anything, I'll buy you any ring
And i'm in piece , baby fix me
And you'll shake me til' you wake me from this bad dream
Im going down, down, dooown
And just can't believe my first love won't be around

Baby, baby, baby nooo
My baby, baby, baby noo
My baby, baby, baby nooo
I thought youd always be mine

When i was 13 i had my first love
Here was nobody to compare my baby
And nobody came between us or could ever come above
She had me goin crazy
Oh i was starstruck.
She woke me up daily dont need no starbucks
She made my heart pound
Asking for a beat when i see her in the street
And in the school on the playground
But i really wanna see her on the weekends
She knows she got me dazy
Cause she was so amazing and now my heart is breaking
But i just keep on sayin
Baby, baby, baby nooo
My baby, baby, baby noo
My baby, baby, baby nooo
I thought youd always be mine x2

Now Im all gone
Well , these few days is boring yea ?
Finally , after some advice from ah zhong ,
i decided to stay at home for awhile .
Try to lock myself at home .
And , with the help from idiot ,
found some things that i
can do at home to kill time !

Went out to 700+ to meet some frens ..
After that , went to met that bloody idiot !
Sent her home and played some games
of uno ! Hahaha !
Went to have my dinner at KFC !
After dinner , went 111 and played bball
for awhile ! Sweating all over !
Luckily , went home on ah zhong 's free cab !
Hahaha !

Yesterday : Went to CP to buy some things
for my father ! Then went to meet some friends !
Had a few rounds of dota and went to eat !
Then went to 400+ de new block to explore !
Went home around 2+ Hahaha !

Well guessed i wont be sleeping early today ?!
Dun feel lyk sleeping yea ?! Hahaha !
And and , tomoro ! I need to
complete my homework ! Important important !
Hmmm , and , those who viewed my blog , please tag !
Lyk ... Ang Jibong ? Hahaha ! Kidding !~
Tag leh !!!!

(190 days to my 'n'lvls ! )
Yes i can ! Study ! Hahaha !

Phew .. Was a tiring day for me ! Sleeping around 2-3 hours
attending school in the morning , managed
not to sleep in every single lessons !
And went for some basketball games
after school ! Hahaha ! Hmmm , Am i really obese ?
Well , quite particular about this question ( :
Did my homework in the canteen today !
(Idiot , keep the secret ! )

Played some matches of basketball after homework .
Went home around 7 ?
Did some basic excersise on building my
body up ! I wont stay fat for long !
Hahahahaha !
Had meals of maggie AGAIN ! Saving money !
2 eggs for side dish !
Doing my mask later again !
Guess im sleeping early today ?
Target : 11 !
Hope i can resist all those events
happening on comp or resist on
chatting on phone with that bloody idiot !
hahaha !

( 192 days to 'n' lvls ! )
Yes i can ! Just do it ! ( :

Bored !
Didnt went to sch today . Well , today is 24th .
Anticipated long enough for
this day . But ...
Yawn ... Sleeping at home
the whole day ! Kind of bored yea ?
Well thanks uh .. Shall not elaborate !
Hais ... Utterly disappointed !

Had photo taking today !
Hmmm , well , the photo taker was damn annoying ,
irritating and definately sucks !
Was so rude to students but so good to teachers .
Didnt told us that we were taking the fun shot !
Arranged positions for us and ask us to stand close only .
This might be the last class photo we were taking !
And WTF ?!? Is this the right way ?
Although i admit that we were quite rowdy while taking photos ,
but , shouldn 't he spare a thought for those who obeys instruction ?
Not the whole class were rowdy !

Well , went back for physics lesson after that .
Bored ! Skip skip ...
Went to had lunch in canteen after school ! Wow !
Ate alot and spend quite alot in canteen for 1 meal too !
Just drinks and food , i spent around $6 ! Was unbelievable !
In school eh ! Hmmm , went bball court after lunch .
When xiuxing came ,
accompanied him to have his lunch at canteen .
But , i ate 2nd round ! Hahaha ! Spent around $2 !
Total amount spent in school today is more than $10 !!!
Had fun during training as i need not help out c boys
training or anything as my leg is injured
! Just play play play ! Hahaha !
So after training , went to have my dinner and went home !

Did my english homework after bathing and here posting now !
Well , less than 2 hours ! Woooow ! Idiot !
Happy happy ? Hahaha ! Hmmm , okay okay ,
i am very tired now ! Shall go rest first ! ( :

(194 days to 'N' lvls ! )
Go Go Go ! TANKIANHOU ~~~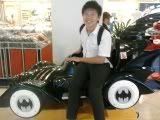 First day of school : Well , overall , school today was okay !
But only thing was , im very tired and
only managed to take a nap during mother tongue !
Went to had my lunch at 925 after school
with Dennis , Desmond , Fuquan , Junhao , Kayseng and
Yu hao .
After a meal of chicken rice , went to had desert at 928 .
Was so full ! Had durian ice kacang ! Hahahaha !
Crapped around and chatted for awhile , moved on to
northpoint ! Walked for very very long time ,
went to see some thingy and shoes .
Continued journey at the basement and went to see some phone !
Decided , either to change SE aino , Nokia X6 or N97 .
Went to watsons and walked for awhile finding some
facial things as fuquan wanted to intro us !
Then continued finding in guardian .
Bought a facial aloe vera mask !
Was cheap ! $2 for a mask ! LOL !
Hmmm , after that , we decided not to go home so early ,
So continued to walk and went in
the supermarket . Forget wad name it is ! >.<
Went to the wine section exploring !
Stucked there for around 30 mins ?
Today 's walk was tiring !
Causing my leg to be very painful ! Arghhh !
Went to met that idiot at subway as desmond wanted
to buy the cookies . So saw idiot there and
went in harvey norman discovering
the TVs ( :
Walking rounds and rounds of basement and
everyone decided to went home !
Reached interchange and saw my bus ,
throwing that idiot waiting for bus
alone as she told me to get aboard and go home first !
SORRY ! Hahaha !
I think you didnt mind right ? It was your
IDEA !!!
Going out later to meet engkiong around my house area !
Tired !! Have not done my homework yet ! Gonna do later !
Oh ya , Mr Chen is back !
He didnt reprimand us for
having fun while he was away ignoring
the relief teacher which taught us !
He just said " Wa ... Have fun while im
having re service uh ? Alot of teachers contact me saying that
your class is having fun while im away until i need to
off my phone ! Recieving message every now and then .
Well , fun time is over , 6 more weeks to your mid year and
its june holiday . 3 weeks after june holiday , its your prelims .
Its time to buck up . Homeworks will be given !
Fun tym are over ! " Hahaha ! Today , i think
he is in good mood ! Thats why talked to us nicely !
Oh okay , i shall go out now ! ( :
( 195 days to 'N' lvls ! )
TANKIANHOU ! You can do it ! I noe you can !!!!

New blog skin ! Woohoo ! Hahaha !
Hmmm , im back from david 's house around 1+ ?
Well , merely slept for half an hour ?
Actually planned to go for a haircut later .
But , just found out that my hair is short !
So boring , sch is starting tomoro !
Feeling excited but at the same tym , bored !

Have not touched my holiday homework yet !
I need to do them later !

Oh ya , TanHanXiang and TanZhiHao , rmb ,
we need to stay back in sch when
our prelims are approaching .
Rmb ? This is wad we agreed on !

Idiot , sorry about yesterday ya ?
Hmmm , im just wanting to tell you
that , its your fault !
hahaha ! But i guessed ,
i used the wrong method ?
And , I DID NOT CHANGED !
Im still me ya ?
the one who always said
that you are SLOW , and CLUMSY !
Hahaha ! ( :
Let bygones be bygones !


( 196 days to 'N' lvls ! )

TanKianHou ! Work hard work hard !

IM FEELING SO MOODY NOW ! PLEASE ! ENTERTAIN ME !!!!

Ahhh ! Suddenly felt so bored ! Hmmm , went to have my dinner at 414 and off to safra , few games of pool and billards , went home , im so bored so bored ! NO MONEY TO SPEND ! Thats the best part ! Im so bored !

I'm back! Helping him to post his blog. Hahs. This few days must sleep early ah, sick must drink lots of water, eat porridge better so ur fever will go down, also must eat medicine okay && sick dont go out, rest at home okay. Also dont carry heavy things okay, ur hand still not okay yet. Must take good care uh. If not me will worry bout you.
Kianhou is a cheerful and confident boy. He is able to adapt to different situations and choose the best decision. He is also optimistic and am prepared for any setbacks. He has great communication skills among his peers and is able to set a sensible target, trying to achieve it. Competing results among his friends allows him to be more motivated in studies. Although he needs a push from adults, he is receptive to advice.
Kianhou is an easy going person among his peers bringing laughter and joy to them. He is able to give mature advice to friends who are in tough situation and helped them out when is needed. Kianhou is a student who is not afraid to approach his teachers and interact with them. He is also able to encourage friends who are emotionally stress and shows care to them. He is willing to sacrifice himself for his friends and is well-liked among his peers because of his sense of humour.
Kianhou is an alert boy who can adapt fast to the situation. He have good reasoning skills and is very creative. Towards academic, he have a good memory on things that the teacher had taught and he is able to grasp concept quickly. Although he is weak in English, but he is able to substitute simpler words that have same meaning quickly. Intelligent is always an advantage to him. He is able to process multiple things in his brain in one shot.
Academic standards and potential :
Kianhou shows the capability to stirve in his academic and gotten good results for the year 2009. Although he is weak in certain subjects, he will take the initiative to learn from his teachers and improve himself. Having a steady progress, he will continue to strive in his studies.
Kianhou shows great intrest in his studies and contributes creative and innovative ideas to the class. Eagerness in lessons had shown his results in test he took . Although sometimes , he needs the push from his teachers to do his work, he is still fairly capable in handing up his work. Attentiveness in class is a definate for him.
Co-Curriculam Activities :
Kianhou had represent the school in participating in the North zone 'C' boys tournament for the year 2007 and 2008.
Kianhou is a very out-going boy who actively participates in sports. The activeness may be the cause of laughter in his group of friends. He is very optimistics and cheer his friends up when they are in bad mood. His intrests is to chat among group of friends and experiencing all kinds of sports.
Kianhou is an intelligent student which may be a great assets that contributes to the society in future. He is definately outstanding and diligent which enhances his stands in future.
Didnt went to sch today . Was very tired and cant wake up in the morning . Woke up in the afternoon and whipped up something for myself to eat . Well , after i had my "Breakfast" , hands on ! And started to edit my testimonials . And here , im done ! Hahaha ! Hmmm , im still weak in my subjects ! I must improve improve improve !!!
( 206 days to my 'N' lvls !!! )
Wow , get some of my results back . Hmmm , satisfied with some , but not all !
Maths = 36/40 ( :
Physics = 29/40 ) :
Chinese = 28/40 ( :
Chemistry = 36/50 ( :
Geography = 15.5/30 ) :
Principles of accounts = 23/40 ) :
Have not gotten my english and social studies results yet , well , will update when i have gotten them back !!! Alright , oh ya , idiot , rmb my lunch uh ! Hahaha ! Yay Yay !!!


( 208 days to my 'N' lvls !! )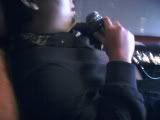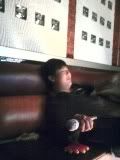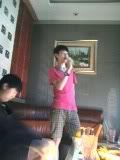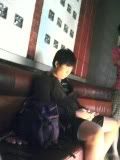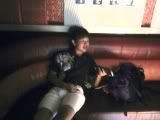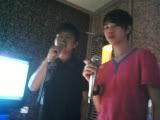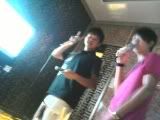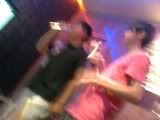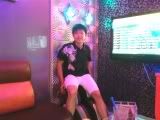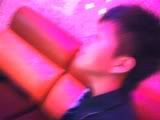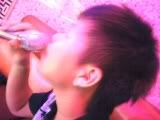 Hellooooooo. Idiot not posting today . Haha. Anw, sorry eh, make ur phone bill explode. OMG! & i make him until wanna buy hp too. Hehe. Sorrryyyyyyyyyyyyyyyyyyyy !!! Me feel so bad & guilty. Nvm, IDIOT! I very good de, i help you save money. :D Haha. Common test finishing soon, jiayou for ur last 2 paper okayy. (:
Had my maths and chemistry paper today . Well , confidence in passing both papers ! Hahaha ! But , geo teacher Mrs yim , informed me that she will minus 10 marks from my geo paper as i was talking during my geo exams . Was lyk disappointed ? Hmmm , aiya , nvm . Fail fail la , dun care le . Wads the point of passing my geo when my ss is lousy . Wads the point of passing my chem when my physics dun even understand a thing except the method of calculation of total resistance ? In the end , its both combine subj . Surely , the other will definately pull my better subj down . Last year , its always my physics is good and chemistry is around the border line . But now , my physics cant even pass the border line ? I think ? Wad kind of teacher ? I didnt blame myself ? The problem is , i dunno where to start to blame myself on ? Blaming myself that i entered northland ? Or blaming myself to dropped stream ? She is definately irritating . Dun wanna teach me , nvm . I didnt disturb the class so went to rest . Waking me up tyms and tyms . If scared that the principal will walk pass , send me out of class then ? Dun wan teach , scared of principal . Utterly disappointed with my results !
Alright , went to meet mr shaiful after school due to the cause of the temporary form teacher . Went to np after that . Walked awhile , buy my bus stamp and went home . Wad a boring day . Felt neglected these days uh . So so so bored ! Not everything is so simple and be lyk how it appears . Beware , dun judge a book by its cover !
Alright , i shall not continue
Have not much for my common test today . Although geo is my strongest subject , this tym round . I also do not have much confidence on it because im just crapping for the answers . English compo , well , my compo is always lousy , so , no need to say then .
Went to np after sch with idiot ! Bought my sch shoes and went for lunch at long john ! Well , pity the malay or chinese girl ? Dropped $2 without noticing it , in the end , the $2 went to the manager of ljs . Hmmm , joke around and went home ! Idiot : Told you to be a kind hearted person and tell the girl who dropped her money . See uh ! Dun wan ! Hahaha !
After school , went home and refreshed myself . Rest awhile while using computer . Went to meet junwei and he accompanied me to do facial ! Damn pain , cant stop crying uh ! My pimples ! Ahhh ! Tears flowing non- stop eh . But after the squeezing part , the gel she applied was damn cooling . So relaxing and felt that , those tears are WORTH IT ! ( : Applied mask , and have some pictures taken ! LOL ! Although cleared those pimples , still have scars . Now still cooling down ! Very red and swollen ! Feels lyk few tons of mosquitoes bit my face !
Tomoro common test ! Maths and chemistry ! TANKIANHOU ~~ BUCKUP !
( 217 days to my 'N' LVLS )